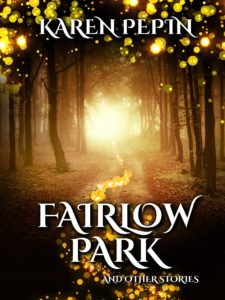 Fairlow Park is a series of stories that focus on a young girl, Gwen, growing up as a friend to the Fair Folk.
Merry Met:
After a fight with her brother that leaves her outcast from all the children's games, Gwen flees into the trees of Fairlow Park. There she finds an unlikely new friend named Thorn, a Faerie sprite who lives in the woods. Now Gwen must decide whether to return to her normal life or be changed forever by her new friendship.
All Hallows:
Halloween is the one night of the year when the Fair Folk may safely walk among the humans and not be noticed. For years, Gwen has endured Trick-or-Treating with her older brother instead of spending it with her friends. But this year, she is determined to change that. Now all she has to do is outwit her brother and his friends so that she can share Halloween with Thorn.
Merry Part:
For Gwen, life is almost perfect. She has her friends – Thorn and the Small Folk of the Woods – the park, and her running. But, a rapist has started hunting for victims in the park, leaving Gwen vulnerable to attack. In the midst of this crisis, her mother tells her that they are moving away from the city. Even if she helps protect Fairlow Park and all who dwell within from the monster hunting in the shadows, how can she prevent losing that which is most dear to her – the Small Folk of the Wood.
Merry Met Again:
Gwen has finally grown up and decides to return to the City and to the trees of Fairlow Park. But, the homecoming is not what she expected. The Small Folk have vanished and the magic of the woods has disappeared with them. Even Thorn cannot be found. Now she must find a way to waken the magic slumbering within her or else she never see her faerie friends again.
The Wild Hunt:
Gwen's life is thrown into turmoil when the Small Folk bring her to the aid of a human named Jack. When Jack is forced to summon the Rias Eid, the Horn of the Wild Hunt, by a rogue Elf named Iritian, the lives of everyone both Mortal and Fairie are endangered. Now Gwen, Thorn, and an elf named Dalvenar must help Jack get the Rias Eid back before the Wild Hunt is unleashed on the world. With the Horn, no one is safe.
(Cover Design: SelfPubBookCovers.com/RLSather)